From Budget Options to Professional Automatic Fish Feeders
1. Don't Feed Them* (5-7 Days Max)
Unfortunately, this option is common because people often don't get prepared to feed fish on vacation, until they're already on it.
It is often said that fish can survive for a week, or potentially even more, with no food and still survive. The good news is that this is true with most freshwater species. The bad news is that it is not recommended to do so in order to keep them in ideal health conditions and your aquarium's ecosystem in cycle. You'd also never want for a delayed flight and an extra night stay to be the cause for needing to replace your tank with new fish and having to explain to your kids that all fish go to heaven AKA the toilet. The way I see it, us as humans can also go a week without food and "survive" but it is certainly not the ideal scenario.
*Not Recommended
2. Have a Friend or Family Member do it
WARNING: No promises they won't resent you for making them do it.
The title is self-explanatory here…
If you trust someone to come over enough to feed them and give correct portions, you can ask nicely or even offer to pay them for swinging by and doing so while you're away. Probably a great option if you also have dogs to feed, plants to water, etc. Just make sure they know how much is enough and especially, how much is too much food so they don't overfeed your tank! You don't want to come back to cloudy water and high nitrates because your fish couldn't keep up with the amount of food being fed to them
3. Fish Feeder Blocks (10 Days Max)
Fish feeder blocks are a good solution if you need a quick, one time fix to the solution. They are a slow dissolving block of food that come in a variety of sizes. Some are intended to feed for 3 or 7 days long and some even claim to last up to 14 days although it ultimately depends on the size and quantity of your fish. If you have a high population tank or one filled with fish that have more sensitive eating habits like Discus, these feeder blocks are not the recommended route to go.
But overall, if you don't travel much or are really trying to get your fish fed in the least cost way, feeder blocks are a quick and cheap solution that will at least keep your fish from dying.
4. Automatic Fish Feeder
When looking to purchase an automatic feeder, know that it's going to be similar to the experience of buying sunglasses…
You can go the budget friendly option but as you well know, you get what you pay for…
There are also the really nice Ray Bans, Maui Jim's, Costa's, etc…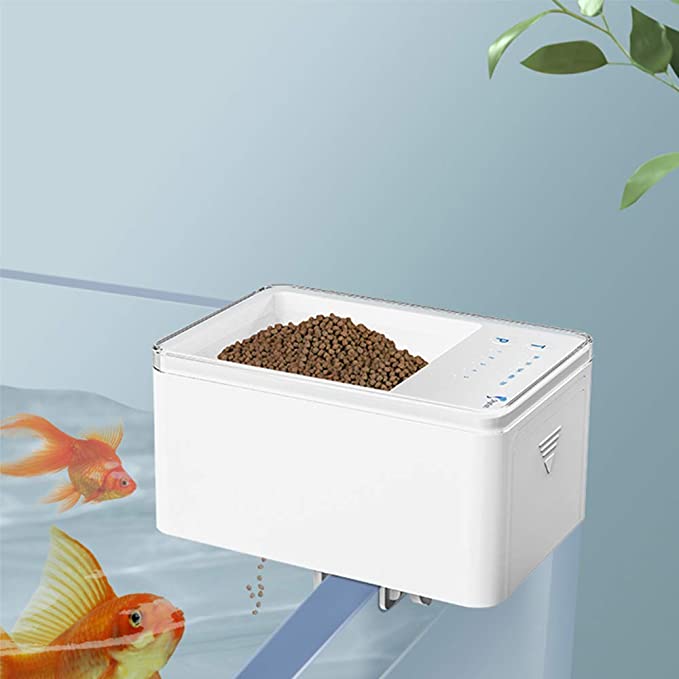 They cost more but look great, are built tough, and consistently deliver on what they're promised to be. The aquarium smart feeder pictured to the right is the equivalent when it comes to aquarium feeders.
What Else Can the Smart Feeder Do?
Here's a list of the abilities this Aquarium Smart Feeder has to offer…
Feed your fish from anywhere in the world with internet connection using the Atlantis Aquatics App
Set up auto feed times with any portion or frequency you'd like
Give the fish a snack with the Amazon Alexa by saying "Alexa, turn on the fish feeder"
Precise portion technology to prevent overfeeding
LEDs light up to any color of your preference when feeding
Get a push notification whenever your fish have been successfully fed
Two way adjustment clamp fit on any tank wall less than 2 inches
Feed a single portion with the manual feed button on the back (great if your internet is down!)
---